Howdy! I still have not found my list of summer loves, but figured that since I can remember at least a couple of the items on there, I could just rack my brain for the rest as I type. Plus for us, we're still in summer mode since Benjamin doesn't start school for another two weeks. To keep us busy until then, I convinced my husband to take on painting ONE more room (our upstairs guest bathroom). And there's no backing out since I've already picked up the paint (spoiler alert: we I chose Sea Salt by Sherwin Williams, the same color my good friend Tami used in her basement which I've always loved) as well as all new bath accessories. I have a feeling this is going to be a really good and budget-friendly little makeover! p.s. yes, I will soon post after pics of our kitchen, just currently in the process of getting some new artwork hung.
Never knew I could actually like weeding, but turns out I kinda do and think I owe a large part of that is beacuse of these gloves. They fit perfectly (I went with a medium) and wash up really well. Plus, they keep me looking stylish which you know is very important whilst covered in dirt and sweating. ;)
Elyse went straight from nursing to these! Yep, good bye annoying sippy cups (they always leak!!!) and hello to these easy peasy straw cups (trust me, your children's dentist will thank you). They're a bit pricey, but last FOREVER! We use one for milk and one for her Nursery Water (what we use since we don't have fluoridated water...come 2 yrs of age, we switch to giving them fluoride pills).
I came across these on sale at Kohls a few weeks ago and so far have been really happy with them. I like them because I think they nicely dress up my casual look of tank/tee + shorts while providing me with a little more coverage on days that I don't feel like regular shorts and it's too hot out for full on capris. They wash up very well after drying in the dryer for a few minutes on low and getting laid out (I don't like ironing...). I also purchased them in black. Good news is they're still on sale for only $19.99!
These are very easy breezy. Yes, I just wrote that. But it's true, I just love comfy skirts (think this love happened back when I was pregnant). To me they say stylish - but not trying too hard. Very flattering and go with lots of different things!
AVEDA Make-Up
As I wrote about finding
while out in Minneapolis
, I want to share again how happy I've been with AVEDA makeup. I typically have combo skin but like a very natural look. That makes finding the exact blend of makeup tricky until I found this lightweight tinted moisturizer (with SPF 15) followed up with
this pressed powder
to be the perfect solution for me! Since I can also get kinda shiny in the summer months, I've also purchased
this loose powder
. It's been back-ordered for over a month now, so I'm so excited they've finally got it back in stock! I also like
their color gloss
...it's like a lip gloss and lipstick in one. Brilliant.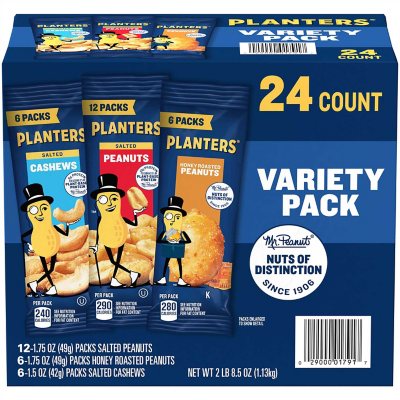 My boys are big time snackers (okay, me too). Since we're often on the go-go-go, I like these variety packs of nuts from Sams Club. I wish they weren't salted, but since they are I just open up one bag, split into bowls, then add some Craisins and/or carrots or popcorn. Sometimes I give them each a whole bag too if we're headed out somewhere. Either way, they're a great little mid-day pick me up!