I realize my post on our NY trip was pretty bland. It only scraped the surface of our east coast adventure....an adventure that was soooo picturesque and lovely. I had heard that before we went, but still was a bit skeptical....after all it was end of August and I'm not one for humidity or bugs. But surprisingly, where we were had neither! In fact, I now consider upstate NY to be on my list of very livable, friendly, beautiful, natural, and convenient places to live (fyi- so far Utah is the only other place to make it on my list). Wow, you're probably thinking I should get out more. I do, I'm just particular about what I like. Like how I once lived in Chicago. I enjoyed living there, but realized that I liked living somewhere else more. I found that I crave natural beauty. The freedom of driving in my own car. The openness! The option for shopping or dining at restaurants nearby with little planning based on annoyances like traffic or parking. Basically, I like feeling relaxed and entertained at the same time.
If any of this sounds like you, or if you still have any interest in this post, pack your bags and come along!
Quick disclaimer: most of these pictures were found on the Internet. Like I mentioned in this post, we skipped on bringing our nice camera and only took a few pictures with our point and shoot or cell phones. Sorry if this makes me super lame, but I can assure you that we did actually visit all of these places in person and can therefore vouch for their accuracy ;).
Image of Downtown Syracuse, NY (photo credit here).
The majority of our trip was spent closer to the city of Auburn than Syracuse (click here for a map of the upstate NY area), but Syracuse is where we flew in and out of. We learned a few things about this city during our brief time there....
1) Very easy to understand freeways with very little traffic.
2) Textile town. Meaning popular industries involving furniture, china, etc.
3) Plenty of city amenities, but still felt friendly and safe.
4) They freak out about their annual fair (which we didn't go to, but noticed LOTS of signage about it).
Next up was driving into the city of Auburn. The drive was pretty, and we enjoyed that we had to travel on the main roads for a majority of the drive since that gave us a chance to take in the shops, restaurants, and houses- you know the everyday stuff, which we like seeing when visiting somewhere new. Although all of this seemed pretty normal, we liked the feel. We stayed in the Finger Lakes region (click above map link if curious) at the Inn at Finger Lakes. which put us within close driving distance to all of the wedding destations and big box stores and within walking distance to local shops and restaurants.
Here's a shot of the cute little downtown area on Genesee Street (photo credit here) located right behind our hotel....
Reminded me a lot of Center Street here in Logan. Loved the fresh flowers, outdoor tables, and old buildings. So quaint and charming. Below is one of my wonderful cell phone pics. Yes, it's of the street. I know, the street- really? That's the first photo of mine that I share with you from this trip? But hey, don't you think this painted brick inlay is cool too? I love old but still really cool architectural details like this. Wouldn't this idea make for an eye catching pathway, or patio? It's like a built in rug that you don't have to worry about getting dirty. Genius!
Another fun stop was dinner one night in a dining car (as in a part of a train) at this Dineraunt. Get it, DINER + RESTAURANT = DINERAUNT. It reminded both Bart and I of the movie Back to the Future. Seriously, if you think the outside looks old, wait until you go inside...we're talking pastel pink, lots and lots of pastel pink.
Not a bad pic taken by a cell phone, right? Oh, the things I find picture worthy....Anyway- back to our trip...
My brother recommend that we check out a little town called Skaneatales (pronounced Skinny-atlas, kinda like how the city Mantua, Utah is pronounced just liked how its spelled ;)) about a 15 minute drive away from our hotel. He described it as a touristy town with fancy shops and restaurants similar to Utah's Park City but on the waterfront. SOLD! We really, really loved the pretty view of the water, charming stores, yummy little bakeries, and the infamous Doug's Fish Fry (for you other vegetarians out there, they also have really good ice cream).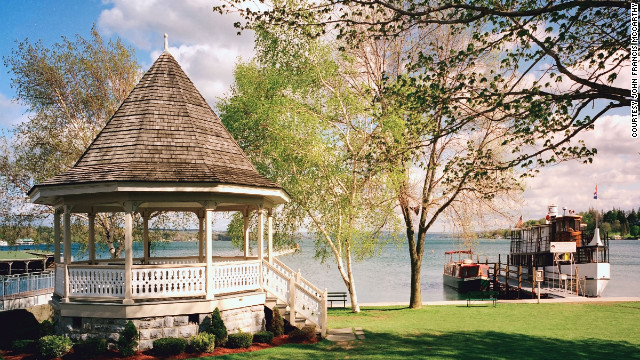 Picture of the boardwalk in Skaneatales. Photo credit here plus a great article on other cool upstate NY hideaways.
So, there you have it- our trip to NY (this time with photos). I know all of these photos taken by other people make this post a little less personal, but I do think the ones I found did a really good job at capturing the beauty and charm of all the places we got to visit.
Another fun place that I traveled to with a friend in SLC this past weekend was the award winning Tulie Bakery.
photo credit here (photos taken by the same man who just so happens to be the interior designer of Herm's Inn here in Logan).
Thanks to my thoughtful mother, I already had the pleasure of devouring their delicious buttercream sugar cookies (they're so good it's unreal) but had yet to ever step inside. Well, let me just try to describe to you how darling this place is....not only do I love their style of galvanized silver chairs and bar stools, distressed wood table tops, chalkboards, and exposed brick, but peering through the glass at their rows of perfect little pastries is like viewing edible art work. In addition to their sugar cookies, I highly, highly recommend their Morning Bun (fun to say fun to eat) and my boys loved their colorful Macaroons. You absolutely, positively must go. Even my husband (now addicted to their Forest Ham and Gruyere cheese croissant) says so.
See how fun it is to take a little travel somewhere?
The nice thing is that traveling doesn't always require a plane ticket. There are lots of places worth checking out and exploring even if just for a moment. Last summer I remember how my boys and I would take walks over to Charlie's Ice Cream here in Logan. Even though we had lived near it for years, we had only ever gone to the drive-thru. While the decor is nothing to rave about, we learned they have a jukebox. And when you have a toddler who loves ice cream, money, and pressing buttons, a baby who loves music, and a mama who loves happy kids, then you have yourself a winning combination of relaxation + entertainment. ;)
Regardless of near or far, may we all remember that worthwhile destinations await.