No, I'm not talking about the fast-food restaurant, Five Guys Burgers & Fries. And nor will I on this blog until they start serving a REAL vegetarian burger. Yes, they have pretty scrumptious fries but can you imagine how insulting it is when I ask if they have any vegetarian options and they respond with "Uhhh....you can order a cheeseburger without the meat?" What is that? A bun with ketchup, cheese, and some pickles? No thanks.
Anyway- what I'm really talking about on this do-nothing Sunday (kiddos and I all got sick AGAIN this week) are my 5 favorite male actors. They're not your typical heart throbs we hear about all the time such as Brad Pitt or George Clooney, but to me they're worth mentioning FEATURING in this post. These intriguing hunks (aside from my husband of course ;)), are perhaps a bit overlooked in the Hollywood celebrity circuit but from my teen years - on, have consistently caught my interest.
Here they are in no particular order.....
JASON BATEMAN
I had to list him first because of my recent discovery (thanks to Netflix) of the television series, Arrested Development. I know I'm waaaaaaay late in catching on to this show (think it first debuted back in 2003), but better late than never! To both my husband and I, this show has just the right kind of humor as well as the perfect cast of actors. If you too are in search of a good television series (love their quick 22 min. commitment) to get hooked on, you should seriously check this one out. Plus, it stars Jason Bateman. Someone who I realized I've always liked watching ever since The Hogan Family (remember that show?!). To me, this man does a really good job at carrying the funny, responsible, and reliable male role all while being entirely likeable. I guess I just really like those witty, down-to-earth, caring types.
PAUL RUDD
What can I say about Paul Rudd other than that he just has that special twinkle in his eyes? This dude has consistently caught my attention ever since one of all-time my favorite movies, Clueless. I like how keeps things plain and simple, acts with true sincerity (in anything I ever seen him in anyway), and shows how nice guys can win.
DERMOT MULRONEY
First off, I love his name. Did you know the meaning of Dermot is Irish and means "free man?" I also love how authentically he pulls off his ruggedness and tenderheartedness at the same time. Many know him from the movie My Best Friends Wedding, but I thought he did the most touching performance in the movie Griffin & Phoenix. I also totally believe what they say about men getting handsomer as they age....do you think he meant to match the gray of his hair with his shirt?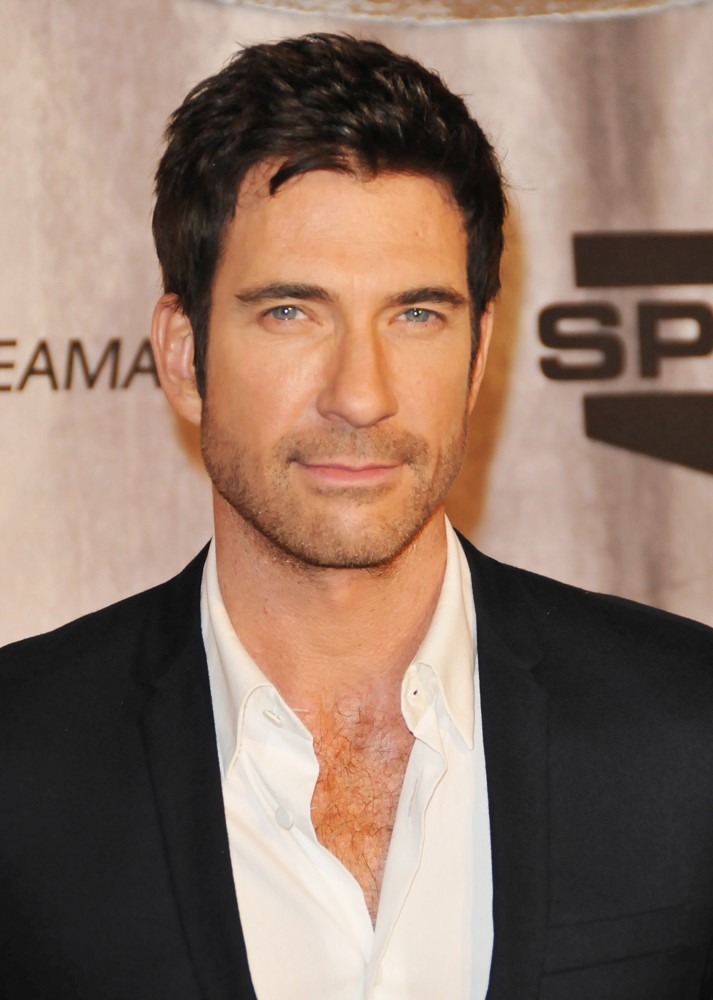 DYLAN MCDERMOTT
Ever since the movie Jersey Girl (the first one- NOT the Jennifer Lopez & Ben Affleck one) I couldn't believe this man was for real. He has the darkest of dark hair and the bluest of blue eyes.....then I met my husband who also has dreamy dark hair and blue, blue eyes. ;) In addition to being beautiful, I also liked watching his smart intensity on the t.v. show Boston Legal.
VINCE VAUGHN
For those of you know me, this one comes at no surprise. I caught on to him my junior year of college when I randomly rented the movie A Cool Dry Place (not expecting anyone to have ever heard of it). I liked how vulnerable and loving he was as a single dad and how he also just had this certain "coolness" about him. I then rented (even purchased) other films he was in and was not at all surprised when he became more mainstream....like 10 years later. I admire his timing, a bit off-styled humor, and his overall friendly appeal. He always seems to be up for a laugh, which to me is very important quality. While he and I never crossed paths while in Chicago (his hometown), I did once meet a guy who once had Vince over for dinner at his family's home in Brigham City, Utah while he was there filming the movie Clay Pigeons (I am serious). I also proudly own a framed poster of him and John Favreau from the movie Swingers. Bart even approves of that!
So that's my list. Yes, I do find it a bit silly that I shared this (btw- while I was posting my husband caught glimpse of the computer screen and began to laugh....that's okay, I know I'm kinda hopeless when it comes to certain famous people). Other male actors who I consider worth mentioning are Justin Timberlake (thought he did a really good job in the movie Trouble With The Curve) and Chris Pine (can't wait for the new Star Trek to come out on May 17th!). I'd love to hear your favorites!
Also, so I don't leave out the ladies ~ here's a recent post Kelle Hampton did on the importance of women. And click here for the revealing of Julianne Donaldson's (the author of Edenbrooke) newest book ~ BLACKMOORE set to come out on....September 28, 2013!!!
p.s. Got to thinking after I posted this about how there are female actresses who I really enjoy watching too.....my 5 gal faves are Natalie Portman, Kiera Knightly, Keri Russell, Amy Adams, and Reese Witherspoon.